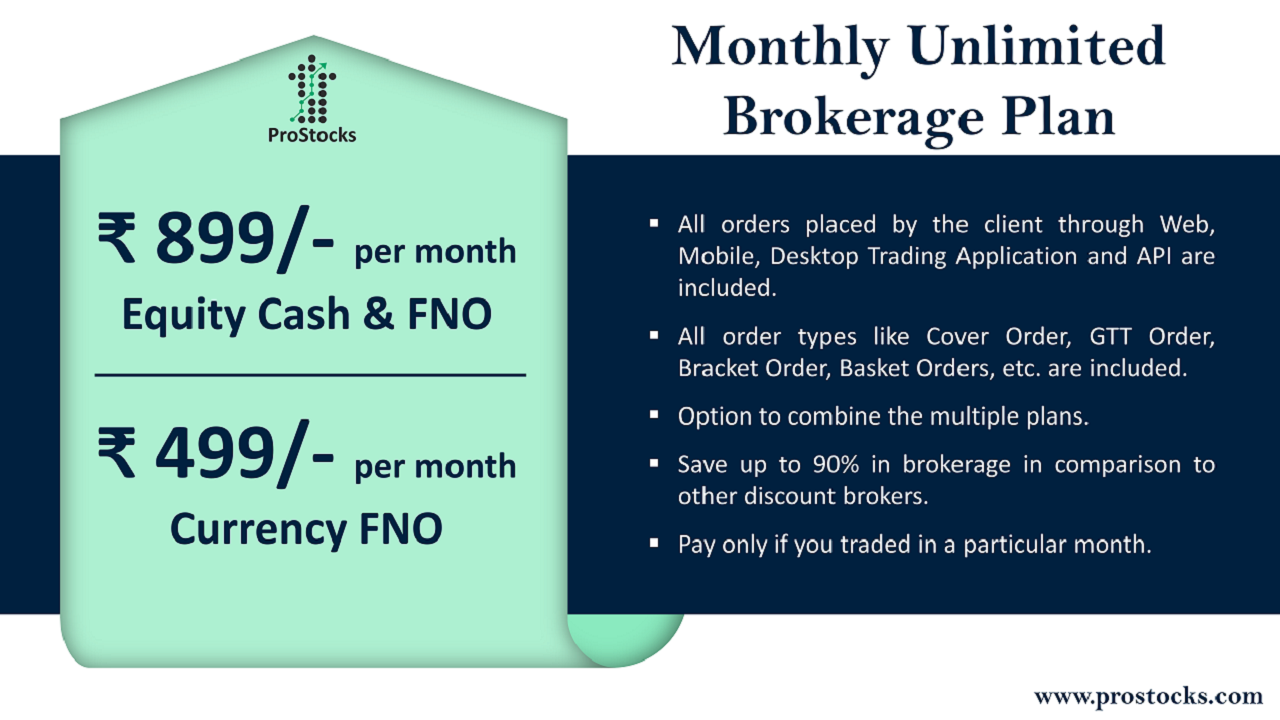 ProStocks provides a monthly brokerage plan of Rs 899/- to trade in Equity and FNO in an Exchange (either NSE or BSE). Monthly brokerage plan of Rs 499/- to trade in Currency Futures and Options in an Exchange is also available. These plans allow you to trade unlimited without paying any additional brokerage in a calendar month. The plan also works with API.
You have an option to combine the multiple plans like Rs 1798 to trade in Equity and FNO at NSE and BSE, both. You can also have Rs 1398 to trade in Equity, FNO and Currency at NSE.
The monthly unlimited trading plan offers up to 90% saving in brokerage in comparison to discount brokers like Zerodha, Upstox and Angel One.
What is included in monthly brokerage plan?
All orders placed by the client through Web, Mobile, Desktop Trading Application and API are included.
All order types like Cover Order, GTT order, Bracket Order, basket Orders, etc. are included.
What is excluded in monthly brokerage plan?
Orders are placed through call and Trade Desk.
Order placed by RMS system to sq off pre-defined intraday position or margin reducing orders.
Any order not placed by the client.
All levies like Exchange Transaction Charges, Securities Transaction Tax, Stamp Duty, SEBI Turnover Fees, GST charged by Exchanges and Government will be charged.
Demat Charges on Demat Transaction will be charged Rs 20 plus GST, separately.
This plan is not available for NRI accounts.
What are the restrictions in monthly plan?
There are no restrictions in terms of the number of orders or trades. Any abuse of system like putting orders to manipulate the market or artificial market creation of false liquidity creation orders etc. are not permitted.
Note: ProStocks Monthly Plan is Calendar month Plan like April, May, June, July, etc. This is not 30 day Plan like 15th June to 14th July. Whichever date you begin, your month will end on the last calendar day of the month.
How Plan Brokerage is collected?
ProStocks will charge you Plan brokerage in the Contract Note @ 2.5% of the value of the Trades in such a way that we will keep charging you the brokerage till plan brokerage is recovered during the calendar month and will stop charging you the brokerage as soon as plan brokerage is recovered, for remaining days of the calendar month.
We may charge you a very small nominal brokerage not exceeding Rs 1 per day on days when no brokerage is charged in the Contract Note. Such brokerage generally will not exceed Rs 10 per month or so.
Since Plan Brokerage is not debited to your ledger with ProStocks but recovered in the SEBI approved mechanism of charging brokerage in the Contract Note, you will not be charged Plan brokerage in a particular calendar month, if you have not done any trades. You will not be charged even if you have a balance in your ledger with us.
E.g. in any particular month, you have done trades of buying option premium worth Rs 10,000 and not done any trade thereafter for the renaming days of the calendar month. You will be charged Rs 250 (i.e. @ 2.5% of Rs 10,000) and the remaining Rs 649 will not be charged to you. This Rs 649 will not be carried forward to next month. ProStocks will simply forgo Rs 649.
Can I change my Monthly Brokerage Plan?
Yes, you can change your Monthly Brokerage Plan at any time. You just need to send one signed Brokerage Plan Sheet on [email protected].
Please read below FAQ to know the process.
How to change Monthly Brokerage Plan to Flat Fee Brokerage Plan and vice versa?
Video Explanation