IPO Investment
In Jan 2016, SEBI made it mandatory for all application in IPO and FPO ( Initial Public Offering and Follow on Public Offering ) to be through ASBA (Applications Supported by Blocked Amount) in which Bank of the client has to create lien ( block the amount in bank account) in favour of the Issuer. Upon allotment, lien will be removed and Client bank account will be debited to the extent of allotment amount. This solves problem delay in refund of IPO application amount upon none or part allotment. Issuer will be given amount post allotment by the Bank to the extent of allotment amount.
IPO application through cheque payment is no longer allowed. Now Stock Broker is not able to offer paperless application to client through their trading website.
Now all paperless ASBA application are possible through your bank account. Majority of the bank's allowing their client to make IPO ASBA application from their online bank account. Client having account in those bank account who are not offering paperless ASBA application or those client who do not do online banking has to fill the physical application and submit to syndicate member for onward submission to client's bank for creating lien marking in the client 's bank account.
Before 2016, broker was taking IPO application from its client along with cheque and submitting to Registrar. In that process, investor's money was collected by the issuer and in case of over subscription, they have to refund the amount. Collecting funds even before allotment and refund in case of non allotment was time consuming process and there were many complaints from investors for non refund, delayed refund , time taken for listing due to manual process etc . ASBA has solved all such issues and also investor is able to earn interest as money is lying in their own bank account till allotment, Listing time has shortened etc.
Let's discuss how ASBA (Applications Supported by Blocked Amount) process works
With ASBA process, banks need to be part of Self-Certified Syndicate Banks (SCSBs). Once bank receive approval as SCSB, they can take IPO application physically on their branches or provide an online IPO investment platform through net banking facility.
ASBA process is applicable to all book-built public issues provided only one payment option by retail individual investors.
Each Self-Certified Syndicate Bank is authorized to accept IPO application which requires Applicant Number, PAN Number, DP Number, Bid Quantity details.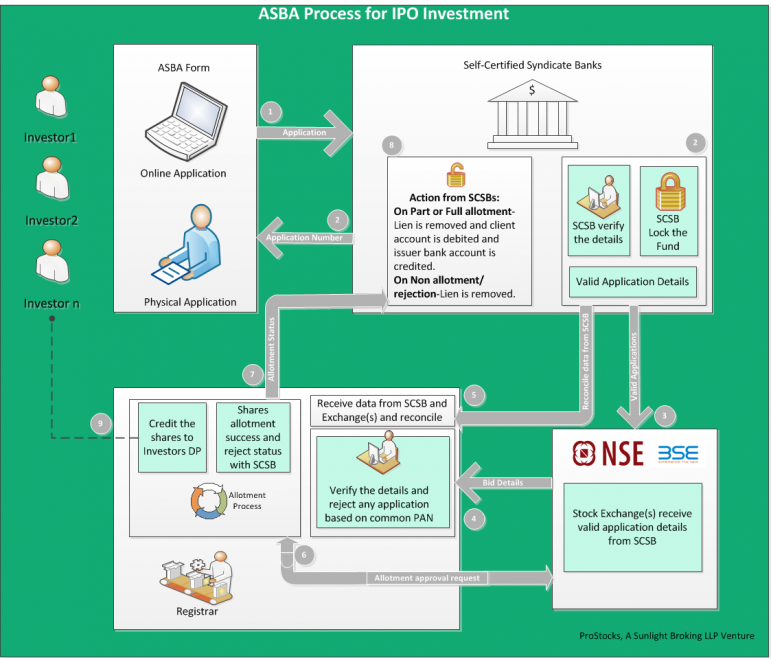 The SCSB shall then block the application money in the bank account specified in the ASBA.
The application money shall remain blocked in the bank account till finalization of the basis of allotment in the issue or till withdrawal/ failure of the issue or till withdrawal/ rejection of the application, as the case may be.
Once bank receives the IPO application, they share the same information with exchanges [BSE/NSE], registrar and block the requested amount from investors account.
Exchange passes the bid details to registrar.
SCSB share the reconcile details with registrar, then registrar match both the information.
After book closer date, Registrar completes the allotment process and send approval request to exchange and get approval from exchange.
Same allotment details share with respective SCSB.
Once the basis of allotment is approved by the Designated Stock Exchange, the Registrar to the Issue shall provide the following details to the CB of each SCSB, along with instructions to unblock the relevant bank accounts and transfer the requisite money to the issuer's account within the timelines specified in the ASBA process.
If you have got the allotment, the Registrar to the Issue will credit the shares to your demat account.
Now with ASBA, You only need your trading account post IPO allotment process, when you have allocated shares in your DP account and you want to sell them in the market.
Advantage of ASBA Process:
The amount is blocked (lien marked) in your bank account and you continue to earn interest, pending allotment.
Your account will debited upon allotment to the extent of allotment amount and lien will be removed.
There will be no need for refund, just removal of lien in case of non allotment or part allotment. You will be able to use balance as soon as lien is removed.
All your data will be picked up from your demat account. You need to just provide your Name, Pan Number and Demat Account Number.
Allotment and listing will be faster due to time saved by removing , taking date from physical application , errors in date capturing , cheque clearing , refund etc,
An Investor can also place withdraw request to the respective SCSB during the bidding period.
Who can apply under Retail category in IPO through ASBA Process?
All investors like Resident Indian, Non Resident Indian, HUF, Minor (subject to issuer allowing) are allowed to make ASBA application under retail category.
What type of account I need to invest in IPO?
To invest in IPO, you need to have:
Bank Account [With Self-Certified Syndicate Banks]
DP Account with any Depository Participant of NSDL or CDSL including ProStocks
How can I invest in IPO with ProStocks?
As discuss above, you can apply in IPOs with any of the self-certified syndicate banks by providing ProStocks DP account details. After allotment, you will use your ProStocks Trading account to trade and sell in your holding of shares. Using our Rs 15 per trade plan or monthly unlimited trading plan, you can sell your allocated shares.
Steps to invest in IPOs:
Login into your net banking account.
Go to Investment options, Select IPO.
Under IPO Page – Select the IPO you wish to invest.
Provide the required information like PAN No, Demat Account Number and number of shares and bid price ( including option to select cut off price ).
Submit application subject to availability of clear balance in your bank account.
Can I submit my IPO physical application form to ProStocks office?
As we don't have branch offices in multiple cities, we are unable to accept physical IPO application form. We advise you to submit your IPO physical application form to your nearest syndicate bank branch location where you have bank account. In Physical Application form, you can provide ProStocks DP Account number.
Where can I find my DP Account Number?
Your ProStocks Depository Account ( Demat Account or beneficiary owner Account ) is 16 digit Number. First 8 digit of your ProStocks Depository Account is always 12083200. You can find your ProStocks Depository Account Number from welcome letter sent to you , back office software , your monthly demat holding statement or calling to ProStocks on +91-22-62 434343 or writing email to support@prostocks.com
Where can I find the self-certified syndicate bank branches list?
List of Self Certified Syndicate Banks under the ASBA facility are available on SEBI, NSE and BSE Sites.
SEBI List of SCSB >> List of Self Certified Syndicate Banks
NSE SCSB >> List of Self Certified Syndicate Bank
BSE SCSB >> List of Self Certified Syndicate Bank