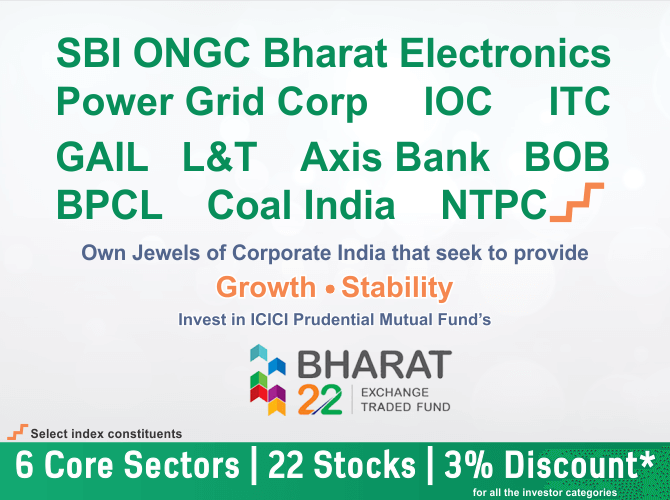 Government of India has launched the BHARAT 22 Exchange Traded Fund (ETF), an open-ended Exchange Traded Fund that tracks the S&P BSE Bharat 22 Index. This ETF shall consist of stocks of Central Public Sector Enterprises (CPSEs), Public Sector Banks (PSB) and some strategic holdings of SUUTI (Specified Undertaking of the Unit Trust of India). Bharat 22 ETF will be offered to investors through a New Fund Offer (NFO).
These companies have witnessed reasonable earnings and are among the market leaders from different sectors. The fund will be managed by ICICI Prudential Asset Management Company (AMC).
These companies could also benefit from various reforms and initiatives introduced by the Government and witness reasonable growth over the long term.
The Government has offered a 3% discount on the "Reference Market Price"* of the underlying shares during the NFO (New Fund Offer) period.
To know more about ETFs, Click here
Bid opening date
15th Nov 2017
Bid closing date
17th Nov 2017
Who can apply
IND, NRI, HUF, CO, NOH,OTH, RF
Offer timings
9:00 A.M to 6:00 P.M
(On 15th November, 2017 and 16th November,2017)
9:00 A.M to 6:00 P.M *
(on 17th November, 2017)
How to place order
Please call on our Call and Trade desk on +91-22-40157050 or +91-22-38110104 from your registered Mobile Number
Method of payment
Clear credit balance must be available at the time of bidding. Payment made using payment gateway will be considered on T+2 days ( except Client transferring funds from HDFC Bank )
Security symbol
BHARATIWIN
ISIN
INF109KB15Y7
Issue type
NFO
| Investor Type | Minimum Application Amount | Maximum Application Amount |
| --- | --- | --- |
| Retail Individual Investors including HUF, NRI | Bid Value of Rs.5000 and in multiples of Re.1/- thereof | Application amount Up to Rs.200,000 |
| Non Institutional Investors Generally called HNI including HUF, NRI | Bid Value of  Rs. 2,00,001 and in multiples of Re.1/- thereof | Application amount up to Rs.2000 Crs |
BHARAT 22ETF is suitable for investors who are seeking*
Long Term wealth creation.
An ETF that aims to provide returns that closely correspond to the returns provided by S&P BSE Bharat 22 index, subject to tracking error.
*Discount is calculated on Reference Market Price. The Reference Market Price is determined based on the average of full day volume weighted average price on BSE Ltd during the Non Anchor Investor NFO Period for each of the underlying index constituents.
Investment are subject to market risk, Please consult your investment advisor before investing. ProStocks does not provide advisory services.
What is an Exchange Traded Fund (ETF)?
ETFs are just what their name implies: baskets of securities that are traded, like individual stocks, on an exchange. Unlike regular open-end mutual funds, ETFs can be bought and sold throughout the trading day like any stock.
ETFs tracks an index (NIFTY/SENSEX), or a commodity (Gold) or a basket of assets like an index fund. The ETFs trading value is based on the net asset value of the underlying stocks that it represents.
Benefits of investing in ETF:
Flexibility to trade: ETF's can be traded throughout the day on the stock exchange like individual stocks and hence provide liquidity to the customers
Lower Costs: ETF's are listed on the stock exchange and generally have a less expense ratio than most mutual funds
Diversification: Investments in ETF's are widely diversified as indices are construed to represent performance of the stock market as a whole
Benefits of choosing ProStocks for your ETF investment are:
Invest in a paperless manner
No need to cut cheques
Get instant confirmation
Calculate capital gains at click of a button
Check portfolio for realized and unrealized profit/loss
How can I invest in BHARAT 22 ETF?
We will be happy to get you started in buying BHARAT22 ETF. Call today at +91-22-40157050 or +91-22-38110104 or email: sales@prostocks.com